When using encoders and especially rotary encoders, choosing the right model is crucial to meet the needs of your applications. So we will provide a short guide about top world-class and leading rotary encoder brands to develop the automation industry and meet the needs of manufacturers.
Siemens
Siemens company offers high-quality rotary encoders as a permanent solution. All Siemens rotary encoders are used for demanding and harsh industrial motion control applications that can get customers' machines working swiftly to minimize downtime of production. They are available in the absolute include single turn rotary encoders and multi-turn rotary encoders, incremental, hollow shaft, or shafted versions.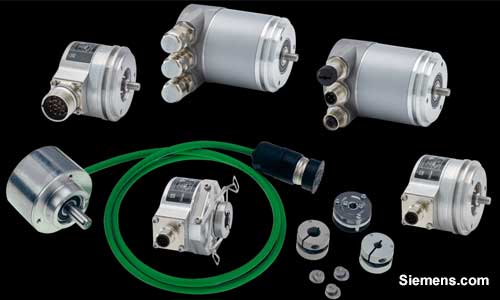 Features and Advantages
Compact design
High operating temperature of 95 °C
Protection structure IP64/67
Simple and quick automatic configuration
Fast and easy detections with a single tool
High data transfer rate
High resolution and accuracy
Applications
Electric motors
Machine tools
Printing machines
Woodworking machines
Textile machines
Robots
and handling devices, as well as a wide variety of measuring, testing, and inspection applications
Siemens Rotary Encoder Series
6FX2001
6FX2003
6XV1801
6XV1871
6GK1901
6XV1840
Heidenhain
Heidenhain rotary encoders provide accurate and dependable position and speed measurement with premium quality, durability, and precision.
Heidenhain encoders provide increased performance with the absolute and incremental measuring method, use the optical, inductive, and also photoelectric scanning principle without any contact, and therefore do not induce wear.
Heidenhain is a leading international manufacturer of precision measurement and control equipment and its rotary encoders have been used throughout the world for many years.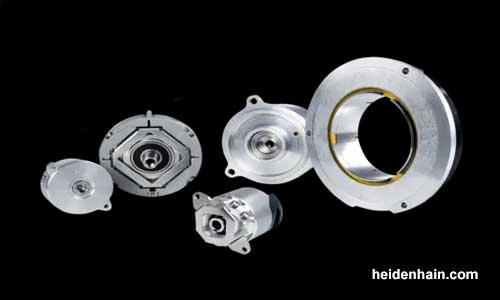 Feature and Advantages
Rugged, easy-to-install design
High protection rating of up to IP66/40
Permissible operating temperatures of up to 120°C
High interpolation factors for digital speed control
Robust inductive scanning principle
Available with functional safety
High positioning accuracy
Very low-profile design
The ability to smoothly integrate into the applications of motors and machines
Simple mounting and short overall length
Applications
Heidenhain rotary encoders as the safety-related position measuring system can be used for safety tasks from simple measuring tasks to high precision speed control with servo drives. Areas of application include:
Electric motors
Machine tools
Printing machines
Textile machines
Robots
Handling equipment
Measuring devices, and inspection equipment
Heidenhain Rotary Encoder series
A wide variety of models and series can be used to adapt a motor to a wide variety of applications to minimize installation work and wiring.
ECN/EQN/ERN 1000
ECN/EQN/ERN 400
ECN/ERN 100
ROC/ROQ/ROD 1000
ROC/ROQ/ROD 400 with synchro flange
ROC 425 for high accuracy
ECN/EQN 1100
ECI/EQI/EBI 1100
ECI/EQI 1300
ECI/EBI 100
ECI/EBI 4000
ERO 1400
ROD 600
ROD 1930
HR 1120
ERN 401
EQN/ERN 400
ROC/ROQ 400F/S
ROC 425
Sick
The high-performance Sick rotary encoders provide position, angle, and rotation counts information.
The company provides incremental encoders and absolute encoders in single and multi-turn models.
Sick as an innovative encoder leader produces rotary encoders with high resolution for very challenging encoder applications.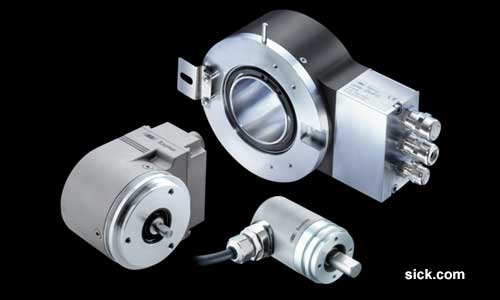 Features and Advantages
High resolution of up to 16 bits
Optional programming
Remote zero set possible
Slim and compact design for use in almost every application
Integrated and compact housing and top-cover design
Function module
Comprehensive diagnostic functions
Operating temperature from –40 °C to +100 °C (depending on the type)
Protection class up to IP68
High-frequency response •
Excellent concentricity
High operating speed
Applications
Wind turbines
Solar panels
Servo motors
Packaging machines
Machine tools
Conveyors
Automated storage/ retrieval systems
Elevators
Sheet and web offset presses
Medical equipment
Robotic systems
Food handling equipment
Valves/flow metering
Overhead cranes
Process monitoring equipment
Steelmaking/foundry equipment
Textile machinery
Tire making equipment
Test stands construction equipment
Transportation
Sick Rotary Encoder Series
DFS60
DRS
DGS
DFS
DKS40
DKV60
Light Duty
ATM 60
AFM 60
AFS 60
ARS 20
ARS 60
ATM 90
Baumer
Baumer rotary encoders offer precise position and speed feedback for use in many fields of application.
It provides measuring and monitoring of rotary speed and rotary shaft positions at machines, installations, and electrical drives with a wide product selection including incremental and absolute methods, magnetic or optical sensing technology, and all relevant output signals and pulse numbers, programmable variants.
Sick rotary encoders are an ideal solution for every type of mounting with high-resolution models with 80000 pulses per revolution, maximum robustness, and lifetime also in harsh environments.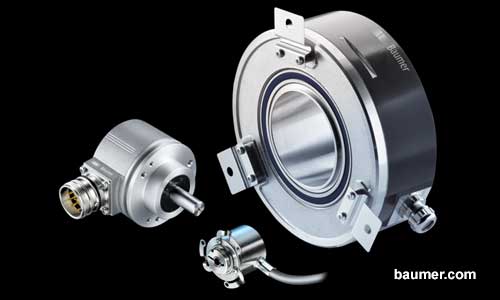 Features and Advantages
Compact in size
Robust and modular design
Precise optical sensing
All common installation options
High flexibility in connection
The reliable long-term operation even in the most demanding ambient conditions
Easy programming
Long-term high IP protection
Excellent speed quality
Excellent signal and process quality
Applications
Asynchronous motors in drive technology
General mechanical and plant engineering
Special machine engineering
Lift and elevators
Packaging systems
Labeling solutions
Textile and printing machinery
Wind turbines
Motor feedback
Mobile automation
Forklift trucks
Generators
Azimuth drives (POD)
Crane systems
On-deck motors and winches

Baumer Rotary Encoder Series
ITD
EIL
HS35F
HS35S
EAM
EAL
GM
GA
GXM
GOM
OG
POG
HOG
MHGE
PMG
HMG
GTF
TDP
Kuebler
Kuebler rotary encoders are the right solution for any application such as servo/light, industrial or heavy-duty applications from a variety of sizes and ordering options.
Kuebler provides rotary encoders for measuring lengths, positions, rotational speeds, and angles with the highest quality and careful selection of materials. Kubler rotary encoders are divided into incremental and absolute versions in both shaft and hollow shaft models.
Kuebler has proved its place in many industries as a robust and accurate sensor and encoder technology.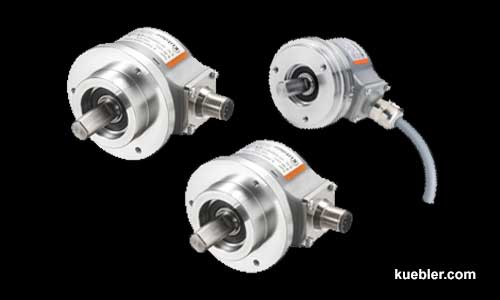 Features and Advantages
Vast operating temperature range and high protection class
Working temperature range from -40 °C to +105 °C
High resolution up to 36,000 ppr
Available in extremely robust versions
Flexible solutions
Extremely robust with bearing insulation
Highly shock and vibration resistant
For functional safety
Low power consumption
Protection class up to IP68
Competitive prices
Highest efficiency
Compact and robust
Safe commissioning
Applications
Robotics
Medical technology
Woodworking
Forestry
Food processing
Packaging
Kuebler

Rotary Encoder Series
2400 / 2420
3610 / 3620
3700 / 3720
5000 / 5020
5800 / 5820
5810
5826
Limes RI20/LI20
7030
9000 / 9000 Niro
A020
2450 / 2470
3650 / 3570
3651 / 3671
3658 / 3678
5853 / 5873
5850 / 5870
5852 / 5872
5876
5858 / 5878
7031
5863 / 5883
5862 / 5882
t 5860
5868 / 5888
9081
9080
Still curious? Click on the below links to know more:
Absolute Encoder (Working Principle, Types, Applications, Advantages)
An Ultimate Guide to Rotary Encoder [Working Principle, All Types Explained, Terminology, Glossary, Pros And Cons]
Explained: Rotary Encoder [Working principle, Types, Applications, Features]
Linear Encoder (Types, Applications, Advantages)
Recent Posts
Load cells, the unsung heroes of the measurement world, have revolutionized the way we quantify f …

Welcome to the Load Cell Comparison Guide! If you're looking for a clear and concise way to under …

Introduction In today's interconnected world, the seamless interaction between humans and machines …