In industrial automation and processes, the colors are often used for detecting, sorting, or inspecting different products and parts. Electronic color sensors are used for precise detection of the color of a product, the packaging, labels, or imprints. This article presents the most popular manufacturers and suppliers of sensors and measuring systems for the measurement of colors in the UAE.
This product can be found in the color sensor category.
Sick Color Sensor
Sick color sensors are the right choice when precise and reliable detection, checking, and sorting of objects on the basis of their color is required. The sick color sensor is configured by using a static and teach-in method that makes simple programming and the IO-Link function allows for intelligent and rapid recognition, visualization, and fast format changing.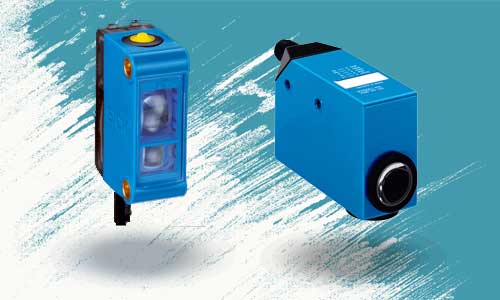 Diverse applications of Sick Color Sensor:
Controlling the cycle on a packaging machine
Food industry
Color recognition on sewing thread spindles
Sorting tubes for tablets
Advantages
High switching speed
Easy setup
Fast response time up to 85mm
High color resolution
Precise light spot
Reliable detection is not affected by changing temperature
Easy installation and adjustment
Detection of up to four colors
Sick color sensor series
Ifm Color Sensor
detects, verifies, and sorts objects by color in industrial automation processes and applications. Thanks to reliable RGB sensing technology and a high switching frequency of 2,000 Hz, the sensor offers high-resolution detection of color in high-speed applications, and also the sensor can reliably detect even the slightest differences in the color shade by means of five tolerance steps.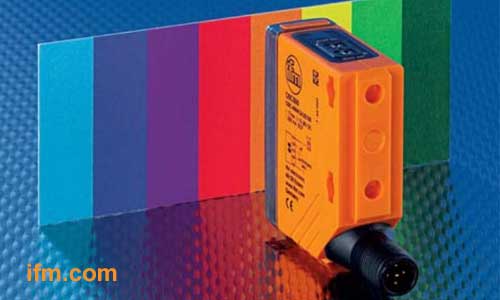 Applications
Cap insert verification
Color verification
Label presence
Detection of proper orientation in fast-moving applications
Advantages
Quick set-up
High switching frequency
High color resolution
Easy and simple mounting
Easy adaptation in applications
Simple, one-step teach-in function
ifm color sensor series
Panasonic Color Sensor
Panasonic color sensor provides high precision and reliable detection of any color marking by using RGB reflective light ratio that using this function allows effective detection of films with patterns around the area of the mark.
Panasonic color detection sensors can distinguish even the slightest differences in gloss and color shades. The sensor features automatic optimal LED selection, a built-in amplifier, and IP67 protection.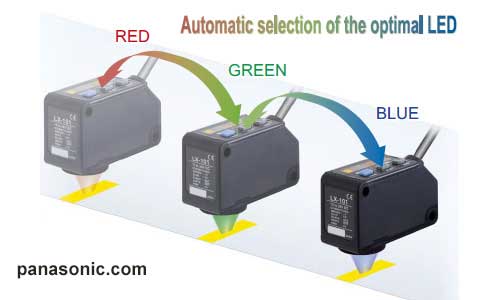 These sensors are a preferred solution for applications including:
Detection of labels, seals, printer's marks on packaging machine tapes, boxes, and plating
Detection of tapes stuck on copper foils
Color matching, or sorting
Advantages
Compact size
4-digit digital display
High precision sensing
Easy and User-friendly operation
2-level, 1-level teaching, and full auto teaching options
External teaching
2 detection modes(color and mark)
Teach-in for simple settings
High precision color resolution
Easy Setup
Key lock operation
Waterproof
Ultra High-Speed response time
Panasonic color sensor series
Autonics Color Sensor
Autonics color sensor offers reliable detection of the color of the target by using RGB light sources. They can be used in wet and dusty environments because of IP67 protection.
External light interference reduction in Autonics color sensor decreases errors and allows precise and stable detection.
Applications
Packaging and sticker industries for checking label status and mark color
Electronic components and semiconductor industries for checking defective unit and connector color
Check the location of package stamping
Detection of color errors in packaging boxes
Detection of lines on packaging objects for sealing and cutting
Advantages
High color detection accuracy
RGB light source with 12-bit resolution
2 detection modes(color and color intensity) with 3-step sensitivity adjustment
IP67 rating
Compact spot size
Detection of tiny objects and color marks
Autonics color sensor series
Sensopart color Sensor
Sensopart color sensor, known for its compactness and excellent color selectivity, provides reliable and precise color, prints, and label detection of objects in industrial production or quality assurance and even in differing shapes with difficult surfaces. The sensor operates based on the RGB model (red, green, blue). A Sensopart color sensor is an ideal option for challenging color detection and sorting applications.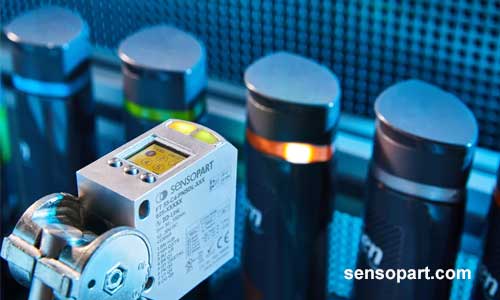 Applications
Detection of color differences in automotive fuses
Identification and assignment of bottle tops
Detection of color labels or lids in the packaging and beverage industry
Detection of printed marks
Printing industry
Sorting objects based on shape and color
Checking cable occupation
Detection of shiny blister packs
Advantages
High switching frequency of 10 kHz for rapid processes
Simple operation by teach-in mode
High color selectivity
Long scanning range up to 150mm
IO-Link interface for remote monitoring
High positioning accuracy, even at high process speeds
Sensopart color sensor series
F25, RGB color sensor in a miniature housing
F50, White-light color sensor
F55, Full-spectrum color sensor in a compact design
F 10, Sub-miniature color sensor
The following articles may be of interest to you:
A Full Guide to Photoelectric Sensor [Working Principle, All Types Explained, Terminology, Pros And Cons, Applications]
Color Sensor [Working Principle, Feature, Industries and Applications]
All you need to know about SICK laser sensor
Recent Posts
In a world pulsing with technology and innovation, there exists an unsung hero—often humble in ap …

Signal conditioning circuitry is the unsung hero of modern electronics, silently working behind t …

Imagine a world where the unseen forces of pressure are harnessed, measured, and transformed into …