SICK is one of the leading brands and producers of industrial sensors and sensor solutions in the world and is considered as a pioneer in non-contact sensor technology. The Sick company produces a wide range of intelligence sensor products which one of the notable one is laser sensor. These laser sensors offer a range of non-contact measurement devices that scan two-dimensionally and are ideal for determining the volume of objects or bulk materials, collision prevention for AGVs (Automated Guided Vehicles), determining and monitoring the position of objects, and controlling the position of the parts.
SICK laser sensors with innovative and red light laser technology are enclosed in a rugged metal housing, Sick's laser sensors withstands harsh environments and resistance to optical interference that causes reducing false readings and downtime.
The laser sensors from sick offer reliable detection even with metallic reflections and can be used in tight spaces or detecting through small drilled holes.
They use the extreme spotlight that makes the sensor a preferred choice for the precise position, presence, and height checks in hazard environments and light conditions.
They feature maximum precision even with ultra-small objects, minimal installation effort that make it appropriate for use in all types of industrial applications, very long sensing ranges that can be achieved through the concentrated light beam and increase the number of application possibilities, high performance and fast commissioning due to high-quality component selected for the sensor.
Sick classified laser sensors into laser classes that present potential hazards, and any necessary protective measures the user must take. This classification is based on the risk and injury to skin and eyes. so all of the laser sensors are rated as class 1 or 2.
These products can be found in the laser sensor category.
Sick laser sensors 3 types
Laser Measurement Sensors
Laser Distance Sensors
Laser Displacement Sensors
Laser Measurement Sensors
Laser measurement sensors can identify the size, type, quantity, or profile of an object.
These sensors are non-contact measuring systems that have a Measuring range up to 10 m on black targets and up to 30 m on white targets within a compact housing in each direction to determine the size of vehicles or a person to monitor security and access control.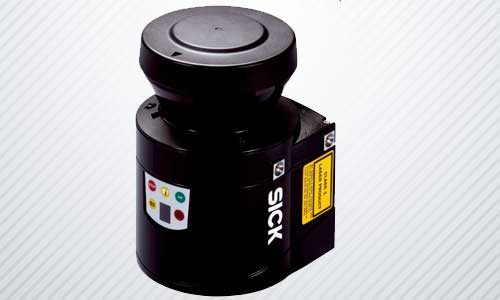 They feature high performance and high measuring frequency and provide precise and reliable measurement without being influenced by object color that results in uptime and process quality.
Due to ruggedness, wide temperature range from –40 °C to +65 °C, and ambient light immunity the sensor withstands harsh ambient conditions.
The Laser measurement sensors have Fast and easy commissioning via an intuitive display menu structure that saves time and money during the commissioning of machines and plants, easy-teach option, Wireless LAN, multifunctional input, or IO-Link saves time and uses the speed of light instead of the speed of sound for measurement and so are designed for:
Bulk solids, slurries, and opaque liquids such as dirty sumps, milk, and liquid styrene.
Laser Distance Sensors
There is a wide range of Distance Sensors produced by Sick company that has a measuring range from sub-micron to kilometers.
The sensor used triangulation and time-of-flight modes for measuring, detecting, and positioning tasks in applications.
Two user-taught switch outputs made the sensor the right solution for precise and reliable detection of objects, even with black surfaces.
Exact background suppression can be done when there are bright surfaces in the background, due to the high resolution of the sensor.
Robust metal housing made the sensor an ideal option for applications in rough environmental conditions including anti-collision control, detection of small parts over a large sensing distance, part detection in material handling applications.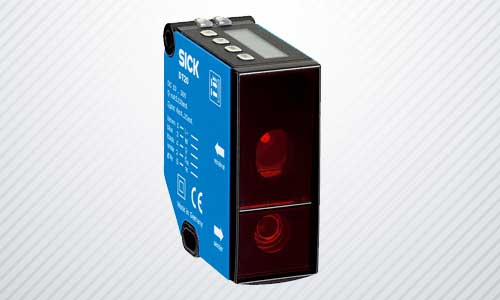 Sensors with integrated heating and a weather protection hood are proper for outdoor applications, contour detection, diameter measurement, difference measurements, positioning of parts, stack height measurement/ classification.
There are 2 kinds of Sick distance sensors:
Mid-range distance sensors
Mid-range distance sensors with a sensing range from 50 mm to 50,000 mm allow them to be used in a wide range of applications.
Due to the accurate measurement of objects with different colors, textures, and materials, the operation of these sensors can be more reliable.
Long-range distance sensors
Long-range distance sensors are designed for a variety of applications and are a new way in linear measurement technology.
SICK linear sensors use state-of-the-art technologies to measure positions, speeds, and lengths without contact. The sensor with infrared laser is suitable for indoors and outdoors distance measurement.
They have high reliability and accuracy in the presence of ambient light, rain, snow, and fog and fast processing time down to one millisecond, making an ideal option for use in control loops.
It is a highly corrosion-resistant aluminum alloy because of dust-proof and waterproof housing and can be used in hot surfaces applications, adverse ambient conditions and provide a flexible range of applications at high speeds.
Configurable digital inputs and outputs, analog output and Fieldbus interfaces (dependent on variant) are other features of Sick long-distance sensor.
Sick use of HDDM (high definition distance measurement) technology in its laser distance sensors. HDDM is an innovative method for time-of-flight sensors that provide a high level of precision, best ambient light immunity, and high measurement rate at a perfect price/performance ratio and ranges of up to 50 m with millimeter precision.
Laser Displacement Sensors
The laser displacement sensor offers several measurements ranging from 26 mm ... 34 mm to 100 mm ... 500 mm and reliable measurement independent of surface that reduces machine downtime.
The sensor has Minimal space requirements and less wiring because of its compact stand-alone housing and use of laser technology make it ideal for precise measurement of very small objects.
This non-contact measuring sensor provides direct inspection during the production process without any wear and damage. There is a wide range of models and a wide range of standard interfaces of the laser displacement sensor with an excellent price-performance ratio.
Listed below are some articles you might find interesting:
Photoelectric Sensor (Different Types, Applications, Advantages and Disadvantages)
Top Photoelectric Sensors Suppliers and Manufacturers in the Middle East
Recent Posts
Load cells, the unsung heroes of the measurement world, have revolutionized the way we quantify f …

Welcome to the Load Cell Comparison Guide! If you're looking for a clear and concise way to under …

Introduction In today's interconnected world, the seamless interaction between humans and machines …