Photoelectric sensors are non-contact devices that are designed based on the properties of light to detect various physical aspects such as distance, the presence or absence of objects, changes in body surface, and the exact position of objects.
Photoelectric sensors use infrared or laser light for this purpose, hence they are also called optical sensors. These sensors have several important advantages over inductive sensors:
These sensors do not depend on the material of different objects and can detect all objects with any material
They can detect objects at greater distances
The response time of these sensors is much higher
Photoelectric sensors are widely used in industrial factory automation and are produced in three different structures according to the part detection method, which are:
Diffuse Reflective Type
Diffuse Retro-Reflective Type
Through-Beam Type
The photoelectric sensor is one of the most important products in the industry that has many applications and many important companies in the world produce it. In the following, we will introduce the most famous photoelectric sensors suppliers and manufacturers in the middle east.
ifm Photoelectric Sensor
ifm photoelectric sensor is the right solution for use in automation processes. This sensor that operates like a photo-eye has reliable and accurate non-contact detection and is widely used in industrial automation.
High-quality ifm photoelectric sensors have a perfect sensing range and can detect objects from any material and can be used for different applications.
ifm produces all three types of Through-beam, Retro-reflective, Diffuse reflection photoelectric sensors.
Photoelectric sensors use visible red light, Infrared light, and Laser light for detection purposes but most of the ifm sensors operate in the visible red light.
They are produced in various shapes, sizes, and materials, and also there is a wide range of system components for easy and secure mounting.
They have an excellent performance ratio and are used for Error proofing, Conveying, High-pressure cleaning, Color sensing, and Clear object sensing applications.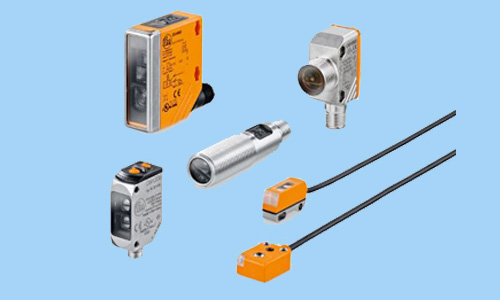 ifm photoelectric are named in different categories and every category has its own features. In the following, we will introduce the different photoelectric sensors Series:
07 series: detection of small parts, in tight spaces, suitable for use in part feeding and material handling applications
OG Cube (M12, M18 Tubulars): resistant in tough applications due to the metal housing, easy alignment, and quick setup
OJ Series: a compact housing for applications with limited mounting space, fast and powerful for use in high-speed applications
OF/OG Series: quick mounting, simple alignment, and fast set up
O5 Series: suitable for color, contrast, and clear object sensing, long ranges up to 25 meters for through-beam models
O1D Series: for use in harsh manufacturing conditions where there are weld slag and chemicals and in error-proofing applications
Features of ifm Photoelectric Sensor
Long sensing range
Reliable performance
Easy set-up
High quality
Simple alignment
SICK Photoelectric Sensor

SICK photoelectric sensors are designed in miniature housing and provide optimum and reliable performance in the smallest installation space for detection over long sensing distances for a broad variety of different applications.
SICK use of in-built ASIC technology in the production of its sensors for detection of objects of different types and qualities made them compatible for various operations and also using PinPoint LEDs technology offer an accurate and very visible light point that is unaffected by intense ambient light or disruptive background reflections.
For detecting all kinds of objects including transparent or opaque, light & dark, perforated or shiny, large or small, and even people.
The PinPoint technology presents a precise, highly visible light spot that is not being influenced by ambient light.
There is a wide selection of variants, simple mounting, and excellent detection reliability, even under harsh conditions, so Sick photoelectric sensors are a milestone for the whole world of automation.
Their rugged design provides resistance to high mechanical stresses due to shock or vibration and also has accurate operation against electromagnetic interference.

series:
G6 Miniature photoelectric sensor, with Durable metal threaded inserts
W2S-2 Miniature photoelectric sensors, for Detection of highly transparent and reflective objects
W4-3 Miniature photoelectric sensor, reliable detection of shiny or jet-black objects, and high immunity to ambient light
W4S-3 Inox Miniature photoelectric sensor, Resistant to a variety of common cleaning and disinfection agents
W8 Miniature photoelectric sensor, miniature housing with M3 threaded mounting holes
W8 Laser Miniature photoelectric sensor, reliable detection of small objects, regardless of color or surface qualities with Laser class 1 technology
W8 Inox Miniature photoelectric sensor, rugged IP69K stainless steel housing provides resistance to aggressive cleaning agents or cooling lubricants
G10 Small photoelectric sensors, reliable object detection at long scanning ranges
W9-3 Small photoelectric sensors, robustness, and high-performance with the ultra-rugged VISTAL™ housing
W11-2 Small photoelectric sensors, rugged sensors for industrial use with versatile mounting options
W12-3 Small photoelectric sensors, an optical performance due to superior OES technology and resistance to optical interference factors from the industrial environment
W280-2 Compact photoelectric sensor, highly visible red light spot of the bright light LED
W280L-2 Long Range Compact photoelectric sensors, sensing distance up to 4 m in WTT280L-2 and sensing distance up to 18 m in WLT280L-2 and ideal for detection of difficult target colors, angles, and color transitions
GR18S Cylindrical photoelectric sensors, space-saving due to cylindrical M18 sensor with extra short housing
V180-2 Cylindrical photoelectric sensors, low installation costs M18 cylindrical sensor on the market
WLL180T Fiber-optic sensors and fibers, reliable and fast response and process detection, even under the most difficult ambient conditions, such as dust, spray, or mist
LL3 Fiber-optic sensors and fibers, more application flexibility with a very large selection of plastic and glass fiber-optic cables
Advantages
Reliable operation in face of optical interference or mechanical loads
Compact and miniature housing
Simple and user-friendly Handling
High detection quality
Maximum Lifetime Services
Autonics Photo Sensor
One of the most important Autonics products that is known for it is the company's photo sensors. Autonics photoelectric are produced in various models and series for use in diverse applications.
They provide accurate and reliable presence detection and also high performance and immunity against noise. These sensors feature high-speed response with a built-in output protection circuit, light ON/Dark ON mode selectable by control wire, and Reverse power polarity and overcurrent.
The photo sensors produced by Autonics are compact, general-purpose sensors and resistant to external influences like ambient light.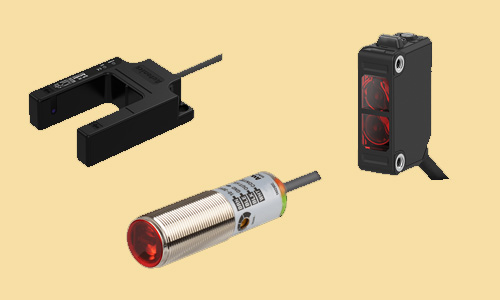 Autonics

series

BUP: U shaped photoelectric sensor, with different sensing distance models: 30mm and 50 mm

BJX: compact long-distance photoelectric sensor, long sensing distance up to 30m and resistant to noise and light ambient

BRQ: cylindrical photoelectric sensor, flexible application with different sensing side, housing materials, and body size

BJP: PCB detection, ideal for detection of printed circuit boards without being influenced by holes, protrusions, intrusions, or errors

BJR: photoelectric sensor, resistant to oil and lubricants

BTF: ultra-compact and thin for use in tight spaces

BTS: ultra-compact and slim with the width of 7.2 mm

BJ: with compact housing and high performance

BY: compact through-beam model with synchronized emitter and receiver

BYD: compact size and high performance with built-in amplifier

BPS: compact, easy installation due to thin and flat housing

BH: M18 nut for front mounting and M3 nut and bolt screw for side mounting

BA: diffuse reflective type with a sensing range up to 2m

BM: for use in different industrial applications

BMS: side sensing with the high response process

BEN: available in AC and DC type

BX: available in AC and DC type with a built-in timer

BR: cylindrical photo sensor, resistant to noise with digital signal processing

BUM: 4 independents output with U-shaped photo sensor

BC: for color detection

BL: for level detection and measurement
Omron Photoelectric Sensor
One of the most important products of Omron is its photoelectric sensor. Omron photoelectric sensor is produced in many different models and varieties to meet the needs of different conditions including diffuse-reflective, through-beam, retro-reflective, and distance-settable Sensors, and Sensors with either built-in or separate amplifiers.
Omron sensors can be used in various fields such as:
Medical industry, electronics, and semiconductor industries, automation and food industries, machine tools and robotics, chemical, textile industries, industrial conveyors, casting and carpentry machines, rubber and plastic industries
Photoelectric sensors feature long sensing range, high quality and reliability non-stop detection, easy and simple selection and installation, fast response time, Short circuit and reverse polarity protection, reasonable price, and availability of accessories.
Omron photoelectric are produced in different types of the separate amplifier, built-in amplifier, built-in power supply.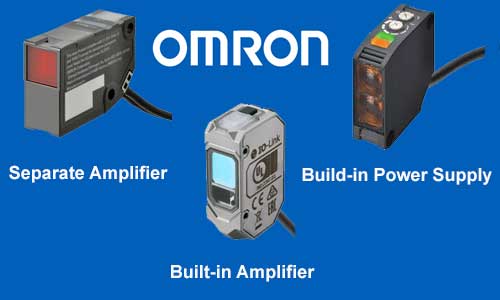 Omron Photoelectric series are as follows:
E3T: Miniature size with plastic housing
E3Z: Compact plastic housing for general purposes
E3S-C: compact metal housing and resistant to oil and dirty environment
E3S-CL: available in a metal housing for distance setting and water, oil, and detergent immunity
E3F2: The cylindrical M18 size in plastic, brass, or stainless steel housings
E3G: long sensing distance in a plastic housing
E3NT: long sensing distance for use in the harsh environment in a rugged aluminum die-cast housing
E3F2: The cylindrical M18 size for reliable use in a dirty environment
E3Z-B: for PET bottle detection
E3S-CR62/67: reliable detection of transparent bottle
E3Z-Laser: laser light for detection in a compact plastic housing
E3Z-...G, E3Z-...J: condition monitoring and preventive maintenance in a compact housing
E3F2-...Z: cylindrical M18 size with AC voltage
E3G-M: long sensing distance for AC and DC voltages
E3JK: compact size housing for AC and DC voltages
E3M-V: mark detection on laminated objects
E3S-G: Groove-type photo sensor for detecting mark
E3S-LS3: for structured object detection and ideal for PCB detection
E3C-LDA: High precision detection LASER sensor
E3F2-...41: easy installation in Radial cylindrical M18 size
Telemecanique photoelectric sensors
Telemecanique photoelectric sensors offer anything required from photoelectric proximity sensors and also are suitable for use in various applications within the packaging, handling, assembly, food and beverage, and conveying.
They are produced in Various functions including diffuse mode, (BGS) Background suppression, polarized reflex, laser reflex, and through-beam and through-beam Optical forks sensor, Fiber optics sensor.
They have a multimode detection system in one unit, compact design, easy to use, fast response, Easy alignment, high build quality, the environmental performance of the product, and are available in pre-cabled version or connector version.
series
XUB: 3-wire DC, cylindrical photoelectric sensors
XUK: Photoelectric sensors in a compact design
XUM: A photoelectric sensor in a compact design, 3-wire DC & 5-wire, AC OR DC relay output
XUC
XUN
XUVR, XUY: Optical fork sensors
Contrinex photoelectric sensors
Contrinex non-contact photoelectric sensors provide a long sensing distance of metallic and non-metallic materials, with different target colors and surface finishes.
They feature a large sensing range up to 40.00mm, compact and single-piece metal housing, compliant to IP67, 68, 69K, and Ecolab approved enclosure, robust and reliable performance in non-contrasting backgrounds, and suitable for tight space applications and challenging environments.
Contrinex use patented UV technology for detecting transparent objects up to 1200.00mm range for its sensors. They are available in cubic and cylindrical housing and produced on diffuse, reflex, and through-beam types.
These sensors are suitable for use in Industrial Automation Packaging machines, Food and beverage, Filling plants, Textile Machine tools, Logistics.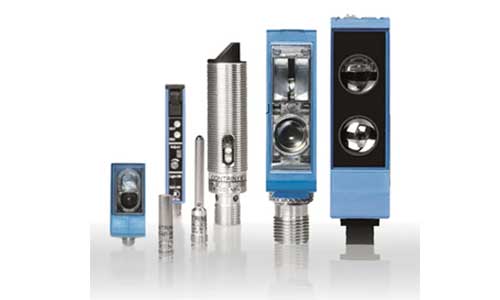 Contrinex photoelectric sensors series are categorized as follows:
C23,C55, 1120, M18P, 1180, 3030, 5050, 4050 Series: Standard Sensors
C12, 1040, 1050, 0507 Series, 1121L laser Series, 3#30 & 3#31 Series: Miniature sensors
1040/50 & 0507 Series: Sub-Miniature Sensors
C23 Series: Transparent object detection sensors
3030, 3060, 3040, 4040 Series: Fiber optic sensors and fibers
C23, C55 Series: Distance sensors
1180 & 1180W Series: Compact sensors for lateral sensing
1180 / 1181L laser Series: Compact laser sensors
4050 Series: Color and contrast sensors
6080 Series: universal sensors for rough industrial applications
Light grids
Fork Sensors
SensoPart Photoelectric Sensor
SensoPart offers the right photoelectric sensor as an Economical solution for every application and industrial automation process.
SensoPart photoelectric sensors use different light sources including laser, LED, or infrared light transmitters, and have reliable performance without being influenced by object color and surface and safe operation due to Laser Class 1.
SensoPart retro reflective photoelectric sensors have precise background suppression because of using ASIC technology.
Ultra-small, robust, and tightly sealed ( IP69K / IP 67) plastic or metal housing in cuboid or cylindrical model, comfortable teach-in setup, easy and flexible installation, immunity to cleaning based on the Ecolab certification, extremely reliable detection of tiny parts, and transparent objects in harsh industrial conditions are characteristics of SensoPart photoelectric sensors.
They are produced in various sizes, ranges, switching variants, and series.
Application
Reliable detection of the thinnest tubes in front of metallic backgrounds thanks to focused laser light spot and precise background suppression.
Detection of black foam rubber pads against reflective backgrounds.
Strongly reflective CDs are reliably detected against metallic backgrounds and with ambient light effects.
Solar wafers with shimmering blue surfaces against polished metal surfaces with ambient light reflections are reliably detected.
Series
F10, F25: Sub-miniature sensors
F 55: Long sensing ranges with compact housing
F 20: Miniature housings
F 50: Standard sensors in compact housings
F 88: Strong and solid sensors for use in harsh environmental conditions
FT 92: Long sensing distance
F 04/05/12/18/30: Cylindrical housing sensors
The following articles may be of interest to you:
All you need to know about SICK laser sensor
5 Most Wanted Color Sensor Brands in UAE
Recent Posts
Load cells, the unsung heroes of the measurement world, have revolutionized the way we quantify f …

Welcome to the Load Cell Comparison Guide! If you're looking for a clear and concise way to under …

Introduction In today's interconnected world, the seamless interaction between humans and machines …