Datexel Products

Coming to Datexel is a great choice if you are looking for solutions to your Signal Conditioning Problems. Not only does Datexel provide the most reliable equipment, we provide the best technical support in the USA. Phone us toll free on 877 4to 20mA to test us out. We have great prices and hold stock of most products.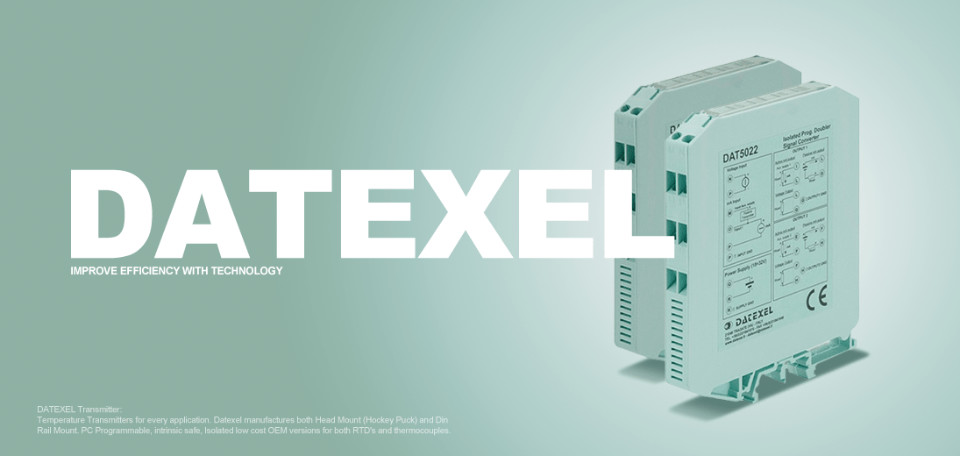 Please click On The Pictures For View Related Products.
Sensors




Range of Low Cost Head Mounted Temperature Transmitter. PC Programmable, Isolated, ATEX approved.




DIP Switch & PC Programmable DIN Rail Temperature Transmitters. Isolated.




Signal Splitters

Universal Input Signal Splitters. Isolated, DIP Switch and PC Programmable.




Loop Powered Signal Isolators

Galvanic Isolated Signal Isolators.



Signal Conditioners

Range of Signal Conditioners Inputs from Strain Gauge, RTD's, mV, mA, Thermocouples with Mathematical Functions.




Signal Isolators

4 wire and 2 wire Signal Isolators and Dual Channel Signal Isolators.




Loop Powered Panel Meters


LED and LCD Loop Powered Panel Meters. DIP Switch Programmable.





Process Limit Alarms

Universal Input and Process Limit Alarms.

.



PLC Input Modules


Analog PLC Input Modules.




AC Current Converters

Programmable AC Current Converters.




DC Current Converters

Programmable DC Current Converters.




AC Voltage and DC Voltage Converters

Programmable AC/DC Voltage Converters



Modbus Acquisition modules.

Modbus Communication Modules and Modbus Data logger, Slave and Master.




Modbus Analog Input


Modbus RTU Analog Input Modules.




Modbus Analog Output

Modbus RTU Analog Output Modules.




Modbus Digital Input Output Modules

Modbus Digital Input and Output Modules.



CANopen Modules.

CANopen Digital and Analog Input Output Modules.









ONLINE STORE





We welcome you warmly to Future Sky Equipment LLC online shopping.Get a whole new experience of searching your Industrial Automation parts requirements and feel free to contact us with our well trained engineers for the technical supports and we are fully calibrated to respond in any Industrial & automation requirements.

OUR SERVICES





Future Sky Equipment LLC, provides services to our customer with widest technical support of all the products and brands we have. Our prompt and efficient service coupled with our strict adherence to quality and safety. We assure all our precious clients of our unflinching effort to provide for and to resolve your requirements to their fullest content and satisfaction.

CONTACT US





Phone: +971 4 2595133

E-mail: Sales@fse-automation.com

Use Toll Free: 800-6001