Inductive sensors are a type of proximity sensor that is durable and resistant to industrial contaminants. But if there are impact, abrasion, corrosive cutting compounds, and other abuse in the environment that your sensor is used, you have to be careful which sensor you choose and how you mount it in a harsh environments. Welding applications are such situation which you should chose a specific sensor like Weld Immune Proximity Sensor.
Inductive sensors are exposed to strong magnetic fields as well as sparks and weld slag, so there is a need to choose a sensor that is capable of withstanding high-intensity magnetic fields and suitable for the harsh working conditions found in automotive factories and other industrial welding plants.
Weld Field Immune sensors are an ideal option that is used in welding areas where standard inductive sensors come up with errors and produce false outputs.
They are suitable for use in robotic welding areas, spot welding areas, and other areas with high magnetic noise like assembly lines.
Structure and Working Principle of Weld Immune Inductive Sensors
This type of inductive sensor has a stainless steel housing, PTFE (Teflon) active face, and a non-stick coating that is resistant to damaging sparks, weld-slag buildup, strong magnetic fields, and high temperatures that can affect the performance and the operating life of the sensor.
These sensors can be used in many welding applications, the metalworking process, and fast automation processes due to their high switching frequency and speedy moving detection of metal parts.
Welding immune sensors can detect and sense all objects made from different metals because they operate on the reduction factor 1 principle that uses a multiple coil design.
So both ferrous and non-ferrous targets can be detected at the same distance and there is no need to reduce the sensing distance based on the target material.
Also, their structure is made without a ferrite core, which causes resistance to the magnetic field, and has a very high electromagnetic compatibility.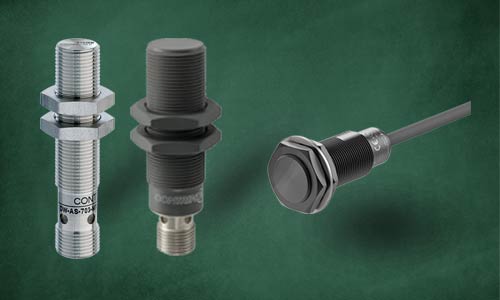 Features & Advantages at a glance
Resistant to electromagnetic fields, Weld-splatter, abrasive media and cleaning agents
Extremely robust
High pressure and temperature resistant
No false switching caused by metal dust or chips
Factor 1 provides same sensing range for all target materials
No extra protection needed
Reliability and longevity in harsh ambient conditions
vibration and shock resistant
Increased operating distances
Solid stainless steel housing for direct use in the splash zone
Extended service life due to robust housing
Minimum down-time
High switching frequency and precision
Applications
Automatic machines and warehouses
Packaging lines
Transportation lines
Automotive, aerospace, electronics and white goods
Challenges and Solution for Weld immune sensors
| | |
| --- | --- |
| Challenges | Solutions |
| Weld Spatter that cause reduced sensor performance, spatter accumulation and difficulty in replacing sensors | Anti-Spatter Coating, Activstone coating on all external surfaces resists weld spatter |
| Magnetic Fields that Interference with inductive sensor and cause false triggering and sensor output locking on | Weld Field Immunity, weld immune sensors resist magnetic interference from medium-frequency weld fields |
| Moving Parts create Mechanical impact with moving work pieces, damage to ferrite, electronics and housing and frequent machine downtime | Impact Resistance stainless-steel housings that offer maximum impact resistance |
Recent Posts
The strain gauge converter is an essential tool in the world of precision engineering and mea …

Pressure gauges are one of the most fundamental and widely used instruments for measuring the …

In today's fast-paced world, precise measurements are crucial in a wide range of industries an …