Among the brands of industrial automation around the world, the Contrinex brand has a special prominent position in the production of various sensors. The sensor is one of the products of industrial automation that today plays an important role in controlling, monitoring, processing, and identifying industrial and service processes.
Contrinex is a reliable brand in the production of inductive sensors, capacitive sensors, and ultrasonic sensors.
Contrinex inductive proximity sensors have high power and high reliability for detecting non-contact metallic targets. All of its inductive sensors have metal housing which is effective to use in harsh environments or when switches are exposed to collisions with other objects.
And also these sensors are compliant with IP67, 68, 69K, and Ecolab, to withstand the most severe operating conditions and challenging environments.
These sensors offer significant stability due to environmental and temperature effects compared to other leading sensor manufacturers.
These inductive proximity sensor types generate a magnetic field in their sensing area, and their sensor circuits quickly detect the degree of variable change. They have a safe operation, long-range operating distance with a sensing distance up to 40mm, and easy installation and setup.
These unique and innovative products feature far surpass those of standard sensors and are produced in different types and series, each of which has its own capabilities and features and is used in related industries, which are described in detail below.
Basic
Contrinex BASIC inductive proximity sensors have an Exceptional and world-class performance ratio and are well known for their uncompromising Excellent accuracy and exceptional reliability.
They are suitable for operation in long sensing distances between 1.5 mm and 40 mm that are confirmed for more than 20 years across the world's largest installed base.
These Highly flexible and indestructible sensors are ideal for rough environments, with IP68/IP69K impervious protection, Factor 1 on steel and aluminum, and One-piece stainless steel housing.
They are available in Embeddable or non-embeddable models, Active face mountable in 5 directions, in sizes from M8 to M30 and C44, with hard-wired, hermetically sealed connecting cables or indispensable metal connectors for using in general position-sensing and presence-sensing applications.
The sensor has An IO-Link interface for communication in PNP NO versions and an outstanding lifetime and robustness due to application-specific integrated circuits (ASICs) that provide high operation at operating temperatures between -25°C and +70°C.
Industries for Contrinex BASIC inductive proximity sensors:
Automotive production and supply
Machine tool
Energy
Packaging
Logistics
Materials handling
Textile
Assembly
Automation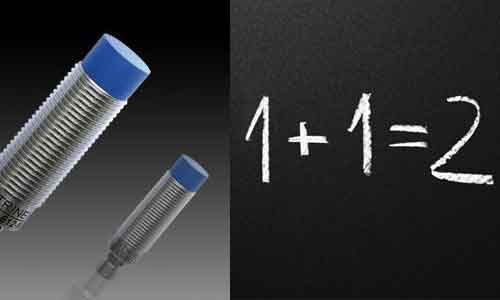 Miniature
When there is a space limitation for mounting including tool selection, robotic position-sensing, and control of micro-mechanisms, Contrinex Miniature inductive proximity sensor is a preferred choice for position- or presence-sensing without any failure in function.
These small and outstanding sensors use conventional Classics, or advanced Extra Distance or Full Inox technology.
They have High switching frequencies up to 8,000 H, stable operation in temperature from -25°C to +70°C or +85°C for Full Inox models.
Contrinex Miniature and rectangular inductive proximity sensor
Logistic
Food and beverage
Packaging
Special purpose machine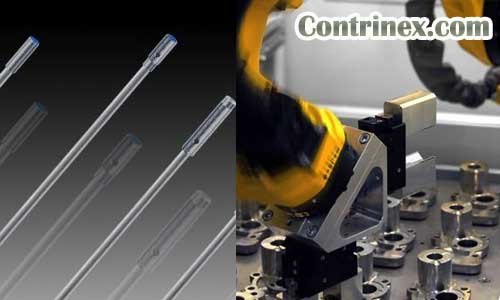 Extreme Contrinex inductive proximity sensors
These mechanically and chemically robust Contrinex inductive proximity sensors from the Full Inox family are ideal to use in the most challenging circumstances and extreme environments.
Due to their One-piece stainless-steel housing, hermetically sealed cable entry, and IP68 and IP69K protection they are Corrosion-resistant, water and Pressure resistant up to 100 bar, and also proof against oil.
These Rugged, reliable, and highly accurate sensors with Factor 1 on steel and aluminum, provide high performance with minimal downtime and operating distances up to 40 mm, for detection of both ferrous and non-ferrous materials.
Industries:
Automotive production and supply,
Machine tool
Maritime
Vehicles
Packaging
Logistics
Materials handling
Click on the following link, in case you'd like to view our inventory on the capacitive sensors.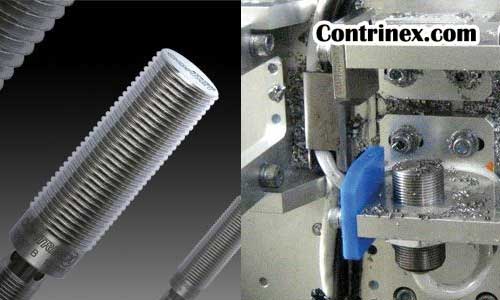 Analog Output
Contrinex analog proximity sensor offer excellent and reliable repeat accuracy for detecting the position of a target object in demanding applications.
These Contrinex inductive proximity sensors are ideal for measuring linear, angular, and rotational positions and provide the best temperature stability, longest sensing ranges of zero to 40mm, resolution in µm range, and current or voltage output.
Industries and applications for Contrinex analog proximity sensor:
Machine tools
Packaging
Logistics
Materials handling
Textile
Printing
Metal sorting
Quality control
Vibration monitoring
2-wire
Two-wire sensors and NAMUR and 9 DC and AC/DC types that are used for series connection are available in sizes from Ø 3 mm to M30 and 5 x 5 mm.
The sensor is created on the Classics technology platform and there are embeddable or non-embeddable mounting models with connection by means of cable or connector.
They have a sensing range up to 15 mm.
Application for 2-wire Contrinex inductive proximity sensors
Automotive production
Machine tool
Packaging
Logistics
Materials handling
Textile
Extra Pressure
Contrinex Extra Pressure inductive proximity sensors offer dependable and accurate detection of presence and position-sensing in circumstances with pressures up to 200 bar and at water depths up to 1,000 meters.
This miniature package-sized sensor has stainless-steel housing with a permanently bonded ceramic or sapphire-glass sensing face that ensures robustness and exceptional reliability operation.
Applications for Extra Pressure:
Energy
Pneumatics
Lubrication systems
Pumps
Valves
High Pressure
Operation at pressures up to 500 bar (1,000 bar peak pressure) needs a reliable and accurate sensing device.
Contrinex high pressure inductive proximity sensors with classic metal housing or one-piece, stainless-steel construction and large temperature range -25°C up to 100°C is an ideal solution to detect target objects at high pressure.
They are resistant to pressure cycles and can be used for the detection of small objects such as:
Automotive production and supply
Energy
Maritime
Hydraulic and fluid power
Concrete pumps
Injection molding machines
Piston-control applications where space is at a premium.
Extra Temperature
Industrial processes often produce heat, and standard sensors are not reliable for work in these damaging environments.
Contrinex Extra Temperature inductive sensors with stainless-steel housing and robust electronics are the right choice for position and presence detection at temperatures up to 120°C.
These resistant sensors provide excellent long-term reliability, outstanding accuracy, and minimal downtime in harsh and damaging situations like the energy, aerospace industries.
High Temperature
High-temperature applications and exceptional working conditions need reliable sensing and Continuous operation.
Contrinex high temperature proximity sensor have the highest long-term stability at temperatures up to 180°C.
The sensor is the right solution for use in
Paint shops
Surface treatment
Bakery equipment
Plants
Glass factories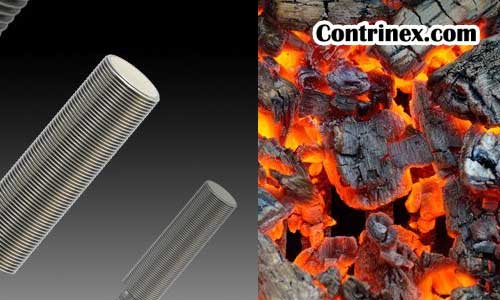 Weld Immune
Contrinex Weld-Immune inductive sensor is a differentiated product that offers the best performance and longevity, whilst being able to resist magnetic interference from medium high-intensity magnetic fields.
There are Series 600 technology families as well as Series 700 full-inox devices of this sensor which offer highly affordable, risk-free options for welding equipment, automotive, aerospace, electronics, and white goods.
Weld-immune sensors are suitable for use in hostile working environments to withstand high-intensity magnetic fields and offer exceptional robustness and long sensing distances.
S600 Series with metal housing & PEEK polymer sensing face is impact-resistant and S700 full-inox devices with One-piece stainless-steel (V2A /AISI 303) housing and sensing face provide Robust & reliable operation in demanding conditions and maximum impact resistance.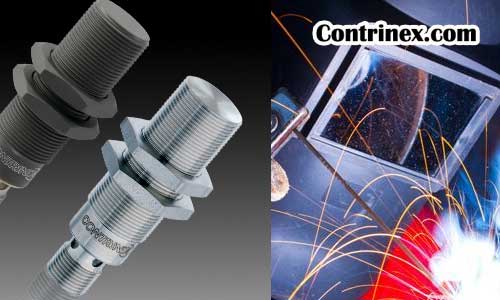 Both Factor 1 sensors offer equal sensing distance for steel & aluminum targets.
Contrinex's Weld-Immune range offers a high-performance ceramic coating that makes it resistant to weld-spatter.
The ACTIVE STONE coating provides high levels of durability against heat and abrasion. The sensor reduces the accumulation of weld-spatter and can withstand cleaning with wire brushes resulting in reducing maintenance costs and minimizing machine downtime.
Sealed, one-piece housing in V2A/AISI 303 stainless steel S700 Full Inox family with extended working life have excellent chemical and mechanical resistance to shocks, vibration and abrasion and also with V2A/AISI 303 stainless-steel bodies S600 devices with their tough thermoplastic sensing faces are a cost-effective and high-performance option.
Chip-Immune
Inductive Chip-Immune sensors detect the position and presence of target objects without being influenced by chips of steel, stainless steel, aluminum, brass, copper, or titanium. and also provide detection of targets made of the above metals.
Robust, one-piece stainless-steel housing, protection rating IP68 and IP69K, operating Temperature range -25°to +85°C Operating distances up to 12 mm are features making them suitable for use in the harshest machining environments.
Double-Sheet
Full Inox families of this kind of sensor are ideal for detection of double-sheets in metal processing applications.
Contrinex inductive proximity sensors uses inductive technology to discriminate between one and two conductive metal sheets with a certain thickness, and can achieve a sensitivity of 0.8 – 1.2 mm per sheet.
This discrimination prevents double feeds in the forming and blanking processes that stop damaging to tooling.
The extremely robust one-piece stainless-steel housing of the sensor makes it ideal to use in double-sheet detection applications, surface treatment, stamping and forming, aluminum industry to withstand the impacts of the moving sheet metal and provide minimal down-time.
Maritime
with one-piece stainless-steel housing (V4A/AISI 316L) and factor 1 on steel and aluminum, Contrinex's Maritime inductive sensors are resistant to corrosion and saltwater for reliable use in ships, ports, and offshore.
These metal proximity sensor have GL-approved, class DNV-GL-CG-0339 certification that highly perform based on Full Inox technology.
Enclosure rating IP68 or IP69K, Temperature range -25°... +85°C and Pressure-resistance available up to 500 bar, operating distances of 6, 7, 10 or 20 mm are the features of this sensor.
The IO-Link interface is used for point-to-point communication with the controller of the system.
Their EMC protection also meets specific maritime requirements, particularly with respect to power supply changes and low-frequency safety.
They provide the longest operating life among other inductive sensors available on the market, even in the harshest marine environments.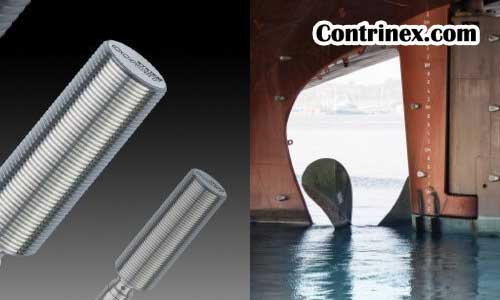 Washdown
Washdown inductive sensors are Corrosion-resistant, Food safe, Ecolab-approved, and Extremely rugged.
Due to IP68/IP69K protection and factor 1 on steel and aluminum, the sensor reduces the possibility of damage impact.
Made from a single stainless-steel housing, these most robust inductive sensors are highly resistant to the corrosive chemicals used for clean-in-place or wash-down processes.
Applications and industries for wash down sensors:
Food and beverage
Packaging
Logistics
Materials handling
Pharmaceutical industry
Industrial cleaning systems
In this article, you got to know about different types of inductive proximity sensors. In case you're curious about other kinds of proximity sensor, check our article on types of proximity sensors or our article on Top 3 Manufacturers of Proximity Sensors in Asia to find out more about its manufacturers.
Recent Posts
Load cells, the unsung heroes of the measurement world, have revolutionized the way we quantify f …

Welcome to the Load Cell Comparison Guide! If you're looking for a clear and concise way to under …

Introduction In today's interconnected world, the seamless interaction between humans and machines …