Inductive sensors are essential for industrial applications today. Compared to mechanical switches, they offer better conditions: operation without contact and without any wear and tear, high frequency, and accuracy in switching. In addition, they are not sensitive to vibration, dust, and moisture.
High protection class inductive proximity sensors are a kind of inductive sensor that is used to detect metallic objects without touching them that Has high efficiency in detecting various metals and high resistance to any environmental conditions.
Feature of High Protection Class Inductive Sensors
Electrical devices are sometimes used in industrial applications with harsh environmental conditions. The IP protection ratings that stand for 'international protection' show which sensor is suitable for use in different environmental conditions.
This parameter is related to the protection of the sensor against the penetration of foreign objects and also the protection against the penetration of liquids in the sensor.
It is an international standard whose protection ratings are clearly defined according to IEC 60529 (DIN EN 60529). The IP rating system consists of the prefix IP and two-digit number.
Each of these figures indicates the degree of resistance of the device against one factor. The first digit indicates protection against the entry of foreign objects into the body.
The second digit indicates protection against the entry of liquid materials such as water into the body. The higher the identification number, so we have a greater degree of protection. In the IP protection rating chart, a complete overview of the possible identification numbers has been shown.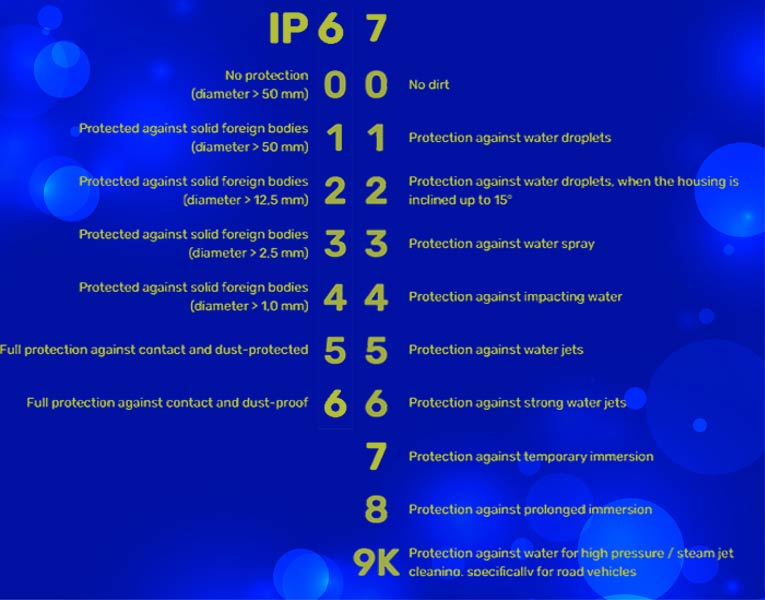 Many electronic devices must withstand contaminants, moisture, and shocks during use.
This code specifies the extent to which the device's resistance can be trusted without regard to security. High protection class inductive sensors are sensors that fulfill high protection classes and are resistant in all conditions and work in harsh environments.
Also, they are currently in use in virtually every conceivable industry and can meet all the demands made by challenging industrial environments.
These sensors with different degrees of protection are available for use in special ambient condition requirements. Maritime inductive sensors and wash-down inductive sensors can be used in the manufacturing of this sensor.
Maritime sensors are impervious and also corrosion-proof and resistant in saltwater.
washdown sensors are designed especially for the most demanding cleaning processes required in washdown applications.
You can click the following link to see our Inductive Sensor products.
Recent Posts
Load cells, the unsung heroes of the measurement world, have revolutionized the way we quantify f …

Welcome to the Load Cell Comparison Guide! If you're looking for a clear and concise way to under …

Introduction In today's interconnected world, the seamless interaction between humans and machines …