While the need for automation safety is fixed, there is a time that automation itself has to allow the interruption of relevant safety functions for industrial automated processes. Light curtains are defined as electro-sensitive protection equipment (ESPE) that provide protection for persons operating or working in hazardous areas in the vicinity of moving machinery.
When one light beam is broken, dangerous movement of the machine is immediately stopped and then the machine shuts down. They enable the protection of personnel and at the same time provide free access to machines. There are leading safety light curtains manufacturers that offer a wide range of light curtain sensors with reliable performance. In the following, we would introduce 3 top manufacturers of light curtains selling their product in Dubai.
Telemecanique light curtain
Telemecanique provides safety light curtains that provide automatic machine shutdown when a restricted area is breached and ensure the safety of an operator by stopping machines when the light beams are interrupted.
The typical applications of Telemecanique light curtain would include:
Robotic systems
Mechanical and hydraulic presses
assembly and packaging lines
Palletizer
Welding stations
Welding equipment and machine tools
Transfer lines
Conveyor systems, materials handling
Warehousing, stocking
The Telemecanique Light Curtains are available in basic or advanced models both Body and Hand protection models and can be fitted with a range of available options to meet your specific application.
All models have highly reliable performance and are of excellent quality.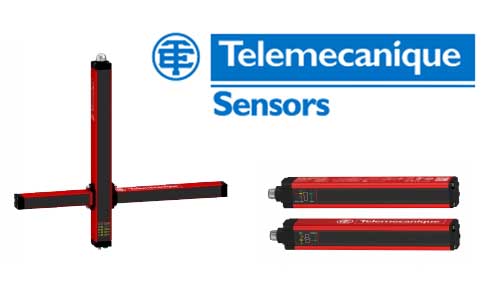 Advantages
Available in different protective heights
Protection for large areas
Minimum safe distance
Resistance to light disturbance, shock, and vibration
Easy and flexible configuration and installation
Compliant with safety standards
Maximum level of safety
Telemecanique Safety light curtains series as follow:
XUSL
XUSLDM
XUSLB
XUSLDS
XUSLP
XUSLPDM
XUSLN
Autonics light curtain
Autonics light curtain sensors are designed to provide safety for persons in hazardous or dangerous areas. They have reliable detection by using proven technology from Autonics area sensors and mapping sensors.
The sensors have reliable and error-free performance even in areas with high and direct ambient lighting and can be used in diverse applications.
There are Various detection models including finger, hand, hand-body detection, and come in different series with various protection heights and user-friendly functions for use in different environments and applications.
Applications for Autonics light curtains
Transport line
press machinery
Advantages
Long sensing distance
Easy detection at side and front
High-speed response time
Available in different configurations and installation mode function
Compliance with international safety standards and regulations
Mutual interference prevention function
Self-diagnosis functions
Various safety-related functions
High visibility with the operation display
P65 & IP67 protection rating
Easy Installation
Slim Size and high durability
For further details or for our full products and light curtain series of these brands please do not hesitate to contact us.
Autonics light curtain series: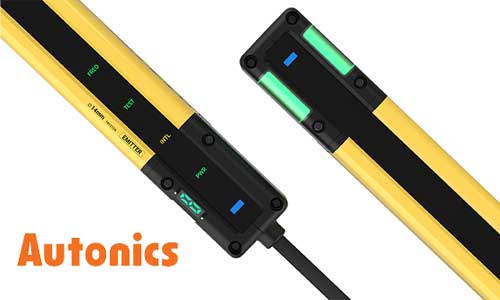 Contrinex safety light curtain
Contrinex manufactures innovative, reliable safety light curtains that provide finger, hand, or body protection and access control to reduce workplace accidents.
Contrinex light curtains can be used where human protection and machine safety are needed and where hazards cannot be eliminated by machine design.
There are Type 2 or 4 Contrinex light curtains that are compliant with the international standard ISO 13849 in various lengths and series.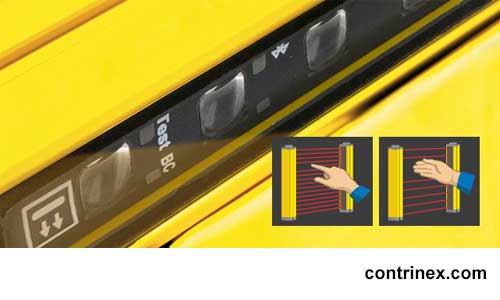 They can be a preferred solution for use in a wide variety of applications that require high protection reliability such as:
Industrial press machine
Weaving looms
Pharmaceutical assembly line
Machine tools and robots
Hydraulic presses
Automated stock management
Laser cutting machines
Logistics conveyors
Advantages
Short response time
Long operating distance up to 50
Compliant with industry standards
Compact and aluminum housing design
Slim, robust
Shocks and vibrations resistance
IP65 protection
Low power consumption
Competitive price
Easy to use
Contrinex Safety Curtain Series
YBES-14 Slim Profile Series, finger protection
YBES-30 Slim Profile Series, hand protection
YBB-14 Series, finger protection
YBB-30 Series, hand protection
YCA Series, body protection
The following articles may be of interest to you:
Light curtain to protect operator safety
Safety light curtain for finger protection on a hydraulic press
Recent Posts
In the heart of any industrial process, silently working to keep things in check, lies a seemingl …

In the world of industrial safety and environmental protection, where precision meets peril, a un …

In a world increasingly driven by technology and innovation, the ability to harness the power of …