When choosing a pressure sensor you should notice the available process connection types. Process connections are used to install measurement instrumentation. There are many different process connection types all across the world, in this article the concentration will be on discussing the most common fittings and connection methods used to install valves and other process components in the piping of process systems. You may also want to browse our selection of pressure sensor with great prices on this link.
They all perform the same function but each connection type has its own pros and cons. Choosing the best process connection type is based on the needs of each industry and according to international standards.
To connect pipes and equipment securely, threaded connection ports are required. They create a compact and streamlined connection between the valve and pipe.
These connections are available in two types, Male (male, with external thread) and Female (female, with internal thread).
This allows the pipes and equipment to be largely sealed together to prevent fluid leakage. Threaded connections must comply with a standard in order to be useful in the industry.
There are standards for straight or parallel threads and some for tapered. Parallel threads require a seal on an 'O-ring' at their base that gets compressed between the valve and pipe or fitting that they are being connected to.
Tapered threads always provide a fluid-tight seal without the use of an O-ring and seal by metal-to-metal wedging.
Some of these connection are as explained bellow:
1. BSP
It stands for British Standard Pipe. The use of this port is common in Europe and Britain and is divided into the two types:
BSPP, British Standard Pipe Parallel
This port is also called G which stands for "Gas" followed by the size in inches and most gas installations are BSPP.
This connection is parallel and does not create a fluid-tight seal and uses a slightly lower taper angle of 55 degrees with a constant diameter.
These threads mate a male thread with a female thread together and compress the soft seal like an O-ring between flat surfaces on each component. Often 2nd P is discarded because BSPT types are less common and BSP is supposed to be parallel unless otherwise determined.
An example of this is G1/4" which you can see in the following picture: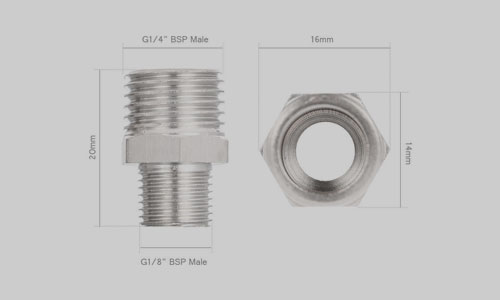 BSPT, British Standard Tapered Pipe
This connection is also known as R followed by the size in inches. R refers to "rohr" which is a German word for the pipe.
Threaded portions in this type of connection are tapered. Also, BSPT has the same thread angle as BSPP and both of them have rounded peaks and valleys, but unlike BSPP it needs no fluid-tight seal and pressure-tight joints are made by the thread alone.
It has a changing diameter that increases or decreases along the length of the thread. A male BSPT can mate to a female BSPP in adaptors.
So male is always tapered but the female can be both Parallel, also known as Rp, and tapered, which is not widely used and is also known as Rc.
R1/4" is and example of this type: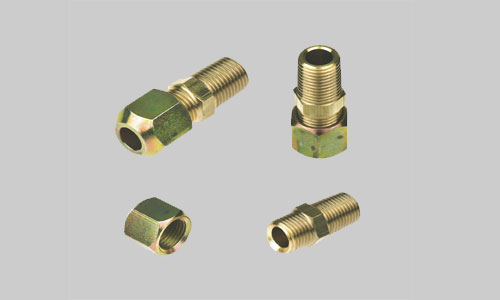 2. NPT
NPT refers to the National Pipe Taper and is an American standard thread for pipes and fittings that are commonly used in the United States and Canada.
This connection uses a thread taper angle of 60 degrees and has flattened peaks and valleys. A thread sealant is needed to achieve a leak-free seal.
NPT and BSPT pipe threads are incompatible because of the differences in their thread forms and you should use an adapter between the two of them to achieve a safe seal between the two different types of thread.
It is described by ANSI/ASME standard B1.20 used in piping systems, pumps, compressors, plumbing systems, mobile working machines, and many other applications.
NPT connection is determined using the size in inches followed by "NPT'', for example, 1/4"-18 NPT that 1/4" inch (0.25") indicates the nominal NPT pipe size and the 18 expresses the number of threads per inch.
1/4" NPT is an example of this type: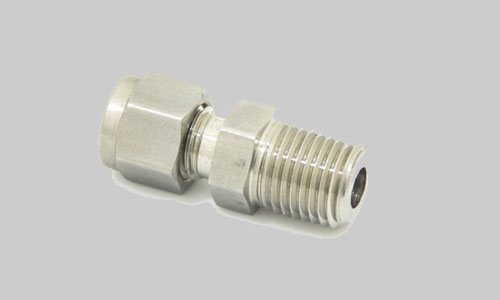 BSP vs NPT
NPT threads are commonly used in the United States, Canada, and a few other countries, BSP threads are widely used in Europe, Britain, and many other countries.
BSPT -British Standard Pipe Taper is a tapered process connection and BSPP -British Standard Pipe Parallel is a straight process connection.
NPT -National Pipe Taper is a tapered process connection.
Thread angle
NPT threads have a 60-degree angle
BSP threads have a 55-degree angle
Thread shape
NPT threads have flattened peaks and valleys
BSP threads have rounded peaks and valleys
Thread pitch (threads per inch)
Each NPT and BSPT pipe thread size has a special number of threads per inch
3. UNF
UNF or Unified National Fine is a straight-thread process connection commonly used in the United States, Canada, and the United Kingdom.
The flank angle is 60°and both female and male threads are parallel. Also, sealing is provided by an O-ring seal.
Among the most common types of this port are:
UNC – Unified National Coarse Thread,
UNF – Unified National Fine Thread.
In this type of connection, the peaks of the threads are flattened and the valleys of the threads are rounded.
1/2-20 UNF is and example: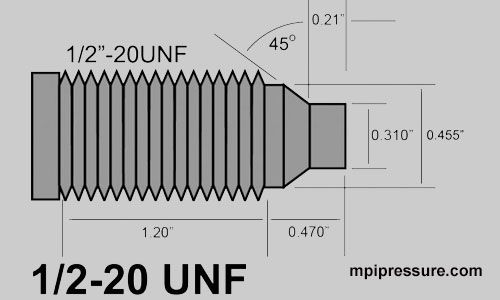 4. M
M or ISO Metric thread is a worldwide standardized thread. The M connection has a 60° flank angle and male and female threads are both parallel.
Metric Threads have different pitch sizes for a given diameter:
Standard or Coarse pitch
Fine pitches
In contrast to standard threads (coarse thread), a fine thread has a smaller pitch. Coarse threads are only specified by diameter but fine threads are identified by diameter as well as pitch size.
For example, M8 is a metric coarse thread with a diameter of 8 mm and M4 x 0.5 refers to a fine thread with a diameter of 4 mm and a pitch size of 0.5 mm.
The peaks of the threads are flattened and the valleys of the threads are rounded.
M22 x 1.5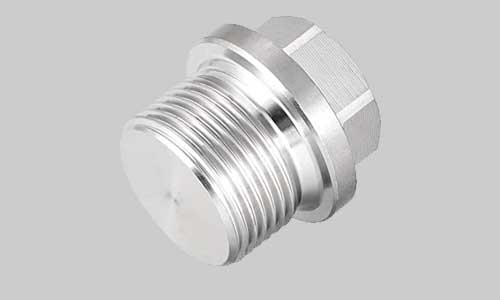 5. Flange
A flange is a method of process connection used for creating airtight and removable connections between segments of a tube.
A flanged connection consists of three parts:
Pipe Flanges
Gasket
Bolting
Flanged connections are made by bolting together two flanges with a gasket between them to create a seal. The gasket is placed between the two circular seal points, which are usually tightly joined with screws.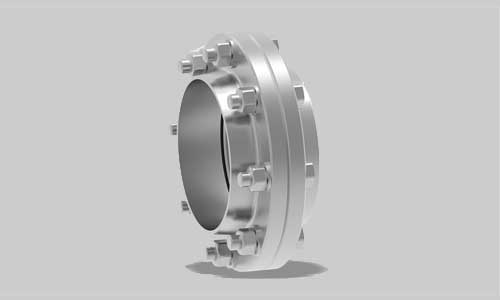 Following are standard flange systems:
GB series (national standard)
JB series (mechanical department)
HG series (Ministry of Chemical Engineering)
ASME B16.5 (American standard)
BS4504 (British standard)
DIN (German standard)
JIS (Japanese standard)
Among the above flange systems the two main used ones are German DIN and the American ANSI.
There are five types of flange connections:
Flat welding
Butt welding
Socket welding
Loose sleeve
Thread
6. Hygienic
A hygienic process adapter system has been specifically developed to meet the requirements of the food, beverage, and pharmaceutical industries.
These industries need processing machines to be cleaned with detergents, or sterilized, with superheated steam and include precautions against contamination in their manufacturing processes.
Hygienic devices have highly polished stainless steel components exposed to the process media and are installed using clamped seals.
European association EHEDG (European Hygienic Engineering & Design Group) and US regulations "ASME BPE" are different regulations that set guidelines for all parts used, including measuring equipment, to ensure optimum cleanability.
A very significant task is to prevent clearances, which means spaces that are so difficult to access that residues of media can remain there. Also, the surface roughness of the materials used should be as low as possible to avoid adhesion.
Popular types of hygienic connections are the Clamp, DRD, Variant and Dairy Fitting.
7. Clamp
Clamp connections are a subcategory of sanitary fittings and are widely used in sanitary applications and the food, beverage, biotech, and pharmaceutical industries.
It is a means of connecting measuring instruments to process tubes in an aseptic manner and without clearances.
So, this connection type is mainly used in processes where hygiene and cleanability are particularly important, and increased cleaning effort is necessary to minimize the potential risks and eliminate contamination, bacterial growth, leaks, and deterioration of the connection material.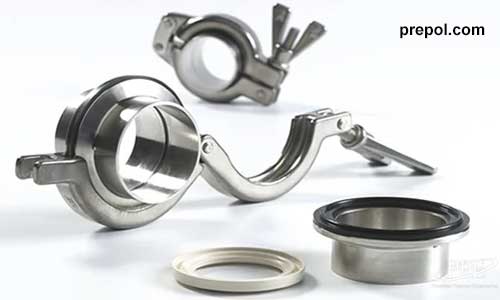 Clamp connections are made up of two flanged ends, a gasket, and a clamp to secure the connection. Two flanged ends mate together with a gasket between their two faces.
There are different clamp types including two-segment single hinge, three-segment double hinge, and two-bolt high pressure. And there are different sizes of clamp connections expressed by two separate parameters, the sealing face flange diameter and the diameter of the pipe.
8. DRD
The DRD connection is provided to connect equipment to the vessel. This connection reaches flush-mounted integration. The sealing is achieved by a common flat sealing.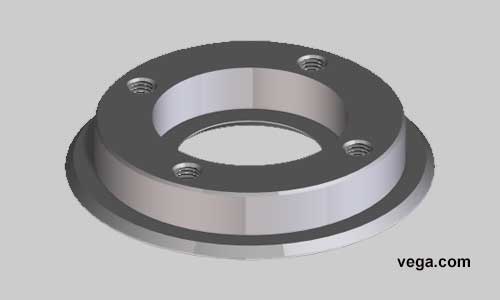 The device is fixed by 4 screws that minimize risks while opening the flange even if there is pressure on the process. It is most commonly used in the food industry.
9. Variant
The Variant process connection is a type of flush flange connection. It is similar to the Clamp connection in that it depends on a clamp to hold the flange of the sensor together with a matching flange on the process fitting.
Variant connections provide an O-ring seal around the internal diameter of the connection. Variant connections are widely used in breweries, dairies, and other food applications.
10. Dairy
Fitting
This type of aseptic process connection, defined in the German standard DIN 11851, was developed for the design of pipe works in milk and food processing.
This connection has round thread screw connections. In the production line, it's important to minimize the risk of contamination and stagnation in the pipe systems.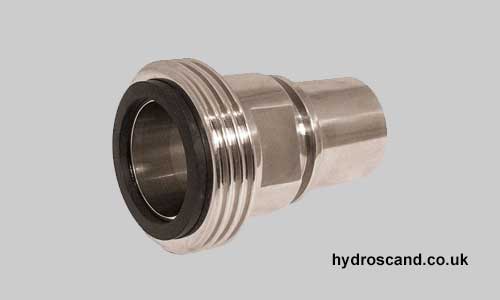 Dairy fittings for milk have inside and outside sufficient smoothness and can be easily dismantled and cleaned and consist of a round slotted nut, welded male piece, a liner piece the nut slides over, and a gasket.
Because of its design, it can also provide the hygienic requirements of the food industry as well as the pharmaceutical and chemical industries.
You can also read the following article to get more familiar with pressure sensors:
Process Connection or Fitting for Pressure Transmitter
Certificates and Approvals Related to Pressure Transmitters
An Eye-Opening Guide To Pressure sensor Types
Pressure Range Explanation in Pressure Sensors
Recent Posts
The strain gauge converter is an essential tool in the world of precision engineering and mea …

Pressure gauges are one of the most fundamental and widely used instruments for measuring the …

In today's fast-paced world, precise measurements are crucial in a wide range of industries an …