Tecpel
TECPEL is one of the leading and rapidly growing manufacturers of high-quality test and measurement devices, including an anemometer. The quality anemometers satisfy every need of international customers. The company's focus is committed to providing customers with high-quality, best-price anemometers with prompt services.
It provides lightweight devices with the latest magnet technology that offers an instant display of the air Velocity and temperature. Its anemometers use low friction ball vane wheels to ensure high accuracy in high and low velocities. Tecpel anemometers are the perfect tool for monitoring events, wind and pressure measurement, navigation, HVAC, and other fields. The company delivers rapid and precise measurement anemometers with fast, accurate readings that are ideally appropriate for:
Fans/motors/blowers/furnace velocity
and refrigeration applications
Tecpel Anemometer Features
High accuracy and specific function built-in microcomputer circuit design
Fast-response-time sensor
High quality with the economical cost
Pocket and compact housing case
Convenient for the remote measurement
Multifunction for airflow measurement
High accuracy in high and low velocities
You may also want to browse our selection of anemometer with great prices on this link.
Testo
Testo is one of the prominent anemometer manufacturers that collects and calculates required values. The company produces different anemometers for both indoor and outdoor use. Also, Testo provides a modern wind speed meter with the utilization of a smartphone, and the associated app makes handling easier for users. Values need not be measured directly on the anemometer or sent to a system. This feature saves both time and money.
Moreover, multifunction measuring instruments are available that simultaneously determine all relevant data. Some versions can measure not only airspeed but also humidity and temperature. A combination of these results can give information about important aspects. Anemometers of this company are suitable instruments for all applications such as:
Monitoring air conditioning equipment
Checking flow fields in technical installations
Determining the dimensioning of different ducts
Measuring the air velocity in wind turbines
Ventilation for underground working places like mines
Testo Anemometer Features
Measurement of wind speed, volume flow, and temperature in a variety of values
Direct and sound recording of the measuring values
Possible combination with smartphone App
Easy handling, even in enclosed spaces
Hold function may be useful
Indoor and outdoor wind measurement
Wind chill and the Beaufort wind force calculation
Simple application and operation
Rapid analysis of the data
High efficiency of systems and equipment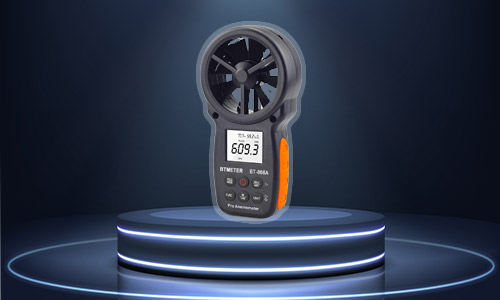 BTMETER is a professional manufacturer of test and measurement instruments. The anemometers of this company are suitable for troubleshooting HVAC appliances such as computer fans, heaters, air conditioners, duct ventilation, etc. BTMETER provides anemometers that can take accurate wind speed/ temperature readings that help you precisely determine the changing wind conditions. It enables you to keep track of wind conditions for outdoor plans such as kite flying, skiing, sailing, shooting, windsurfing, and drone driving.
BT METERS Anemometer Features
Data holding, storing, and deleting function
Wind velocity, temperature, and wind flow measurement
Accurate measurement of air speed in 5 units: m/s, km/h, ft/min, knots, mph
Lightweight, pocket size, and portable
Suitable for use in HVAC installation
Connects to smart devices
Long Range Shooting
Stable performance and high reliability
Made of high-quality ABS material
Durable and wear-resistant
You can also read the following article to get more familiar with anemometer:
What is The Use of Anemometer; Details You Need to Know About Wind Meter
Choosing The Right Anemometer | A full Buying Guide
What is The Use of Anemometer; Details You Need to Know About Wind Meter
Recent Posts
Load cells, the unsung heroes of the measurement world, have revolutionized the way we quantify f …

Welcome to the Load Cell Comparison Guide! If you're looking for a clear and concise way to under …

Introduction In today's interconnected world, the seamless interaction between humans and machines …