The use of sensors in today's life can be very practical. Robots and devices that work quite accurately and quickly can be used in some parts of the work instead of using labor. One of the types of sensors is a rectangular proximity sensor, which is an inductive sensor. To know about other kinds of proximity sensors, get a brief report on types of proximity sensors.
The shape of these sensors, as its name implies, is rectangular. The rectangular inductive sensor is only for detecting metals and is not capable of detecting other materials such as glass, plastic, wood, etc.
The main structure of this sensor consists of a core with 12 rods assembled in the shape of a rectangle. This product can also be expanded as an array.
Today, this type of sensor is one of the most widely used in various industries, in which the coil is distributed on four rectangle edges to create a special measuring mold.
The magnetic flux in the rotation of the core is then measured alternately in the direction of the external magnetic field. This significantly reduces the number of turns of the coil and reduces its resistance to certain fluxes.
So The function of a rectangular inductive sensor is to generate a magnetic electric field by an oscillator, which can detect metals.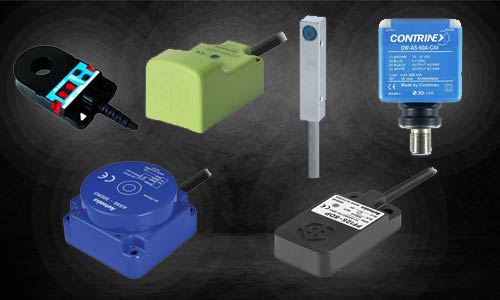 Rectangular Inductive Proximity Sensor Structure
A rectangular sensor consists of several sensors to form a rectangular array together. Its benefits include: Increased sensitivity and Reduced slowness in movement.
The required number of rotations can be directed between different edges of it. The cores act in such a way that they do not have a negative effect on each other magnetically.
They are electrically connected in series. The edges of the rectangular sensor are formed by ferromagnetic cylindrical cores with length and diameter.
In the prototype of this sensor, the modeling of the apparent permeability and its effect on the resonance frequency is well evaluated.
Ferrite rectangular are installed in each corner of the base structure to use the closed ferromagnetic path. This ferromagnetic material is ferrite type B1 with an initial relative permeability of usually about 2500.
This product is a very accurate sensor for motion control applications. One of the purposes of designing and manufacturing this sensor is to monitor the precise movements of a light-based inspection system that measures the presence of defects in the installation of parts.
Its small size, low cost, a wide range of performance, and accuracy allow it to attract more customers than other sensors used for similar applications.
Rectangular Inductive Proximity Sensor are designed for spaces where it is not possible to install cylindrical proximity sensor.
These sensors are available in various types that the sensitivity distance of large samples in this category can reach up to 50 mm.
As a result, where a high sensitivity distance is required and there is limit to the installation space, a rectangular sensor is used.
Rectangular Inductive Proximity Sensor have robust metal or plastic bodies with high protection ratings and have a large sensing area and particularly long sensing ranges.
To read more, you can check the article about inductive sensor working principle in dubai-sensor website.
Advantages of Rectangular Inductive Proximity Sensor
The advantages of a rectangular sensor include the following:
High accuracy
High switching speed
Long operating life
Can be used in different environments with harsh working conditions
Small size and compact design - total volume less than cubic inches
Low costs
Easy to implement and use - Highly accurate linear measurements using inexpensive microcontrollers
Wide operating range
High signal-to-noise ratio - can easily operate in noisy and signal-filled environments
Applications of a rectangular sensor
Precise motion control
Optical switches
Hard drive control
Semiconductor lithography
Semiconductor measurements
Movement mechanisms
Medical diagnosis
MEMS accelerometer
Measuring rotating axis
Seismic monitoring
Recent Posts
Load cells, the unsung heroes of the measurement world, have revolutionized the way we quantify f …

Welcome to the Load Cell Comparison Guide! If you're looking for a clear and concise way to under …

Introduction In today's interconnected world, the seamless interaction between humans and machines …